Ticketek (MCG games)
1. Have your barcode number(s) ready
You can find your 12-digit barcode number(s) via your MyMagpies account.
2. Head to Ticketek.
Click here to open Ticketek in a new tab.
3. Find the game in question
For example, below we have shown our Round 16 match against St Kilda.

4. Select 'Club Members & Public Reserve', enter your barcode number(s) into the space provided, and click 'Unlock tickets'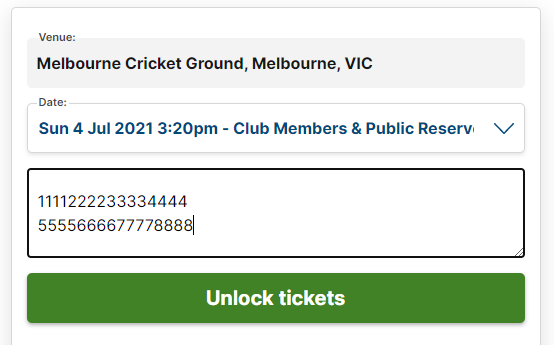 5. Select your desired area, then select the $0 member ticket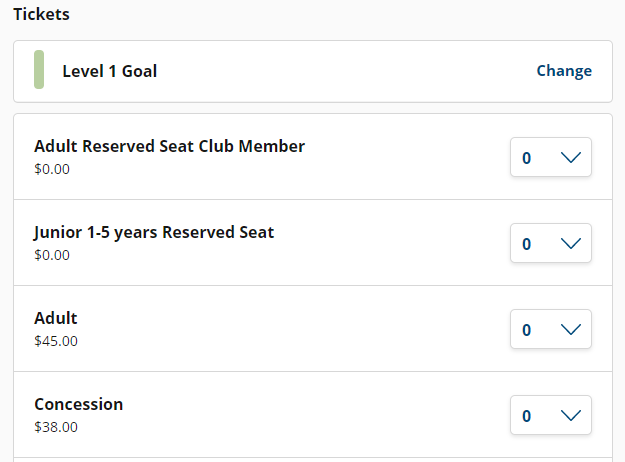 Concession and junior barcodes will show up as such. The example above is for an adult barcode.
Be sure to select the 'member' ticket. Other paid options are for guest tickets.
General Admission members must select the 'general reserved' area in order to redeem a $0 ticket. All other areas show upgraded seats for a discounted cost.
6. Finalise your booking
Follow the prompts to finalise your booking and lock in your seats!
Troubleshooting common issues
Why are only $0 'junior' tickets are showing?
This can happen sometimes when the system thinks your barcode has been used.
Try closing Ticketek and clearing your web browser's cache before trying again.
Why am I being charged for a ticket?
Providing you have entered a correct barcode, this may be because you have selected a ticket upgrade into a better area rather than selecting a $0 ticket into the 'general reserved' area.
Be sure that you are looking at seats in the 'general reserved' area if you want your $0 member ticket.
Why am I only being offered one member ticket even though I've entered multiple barcodes?
Each barcode number will show as separate fields within Ticketek. Only one option to redeem a member ticket will appear per barcode.
If you have entered multiple barcode numbers, simply scroll down on the ticket selection screen to find the other barcodes and make a selection.
Why is my barcode coming up as invalid?
Before contacting the Club, check that:
You are trying to redeem your ticket(s) in the correct window;
You have selected the correct ticket 'date', i.e. 'club members and public reserve';
You are trying to redeem tickets to a game covered by your membership, i.e. a member with only home access cannot redeem tickets to an away game;
You are not behind on payments.
If you still need to contact the Club feel free to call 1300 MAGPIE (62 47 43), or submit an enquiry here.